At NKLocksmith we have a wide selection of top of the range locksmith related products.
Below are some of our main brands of products.
ASSA High Security Lock Products
Considered the first choice for a wide variety of security applications, ASSA, Inc. High Security Locks has manufactured premier locks for industry, military, and institutions worldwide. Our patented key and cylinder design provides a level of key control second to none in the industry; eliminating the possibility for unauthorized key duplication and compromise of end users' security solutions.
ASSA is virtually pick proof and bump proof
ASSA's family of high security products can accommodate a wide variety of both institutional and residential applications. We offer a full line of cylinders designed to retrofit the leading lock manufacturers' locksets along with our own stand alone deadbolts, padlocks, and auxiliary locks. ASSA locks employ a patented dual locking mechanism that renders the lock virtually pick proof and bump proof. This unique operation has allowed us to develop a patented key control system which protects against unauthorized duplication of keys and that can be master keyed into a security system to fit any customer's needs. All ASSA high security products are listed under U.L. 437, a set of tests used to determine a product's physical resistance against various forms of attack.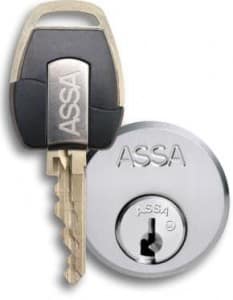 High Security Deadbolt
The ASSA 6000 Series deadbolt is designed to withstand any form of physical attack including drilling, prying, driving, or pulling. Its free spinning guard…
visit ASSALock.com to read more.

High Security Auxiliary Locks
ASSA High Security Auxiliary Locks utilize the same high security features and master keying capabilities as our other products plus…
visit ASSALock.com to read more.

High Security Padlocks
ASSA padlocks are constructed of the highest quality components and are capable of withstanding the most relentless forms of physical attack…
visit ASSALock.com to read more.

Cylindrical Lock Cylinders
ASSA's key-in-knob and key-in-lever type cylinders provide the ultimate in high security retrofit for a variety of leading lockset manufacturers…
visit ASSALock.com to read more.
Cylindrical Lock Cylinders
ASSA provides a full line of mortise cylinders designed to retrofit into most leading lock manufacturers' locksets and exit devices including Sargent, Arrow…
visit ASSALock.com to read more.
Emtek Products Inc
Emtek is dedicated to bringing interesting, well made hardware back into American homes. Until about 1930 there was a proud history of hardware in America. Hundreds of small factories made an enormous variety of creatively designed products. Craftsmen from many disciplines devoted their energies to making locks that provided both function and beauty.
Unfortunately, during the depression many of these factories failed, and then during WWII brass became scarce and lock designs were reduced to the bare essentials. In more recent years the emphasis on cheap, high volume building products has discouraged manufacturers from re-introducing well made hardware.
But now these ideas are changing, Americans are re-discovering the satisfaction that comes from owning well designed products. Emtek's mission is to make it possible for home owners to apply these higher expectations to door locks. We are striving to provide a broad, interesting range of products that consumers can use as elements of decor, not just as a way to latch a door. Visit Emtek.com to learn more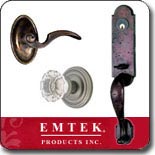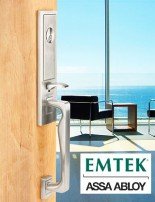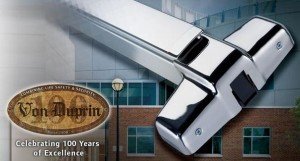 Von Duprin
Von Duprin manufactures the widest range of exit devices and outside trim operations as well as a full line of electromagnetic locks, electric strikes, card readers, and keypad-type access control systems.
Visit VonDuprin.com to learn more
Schlage
For more than 85 years Schlage has been providing innovative security solutions. Today, Schlage is at the forefront of cutting-edge technology such as wireless security products, biometrics and video solutions. Visit everestprimus.schlage.com to learn more